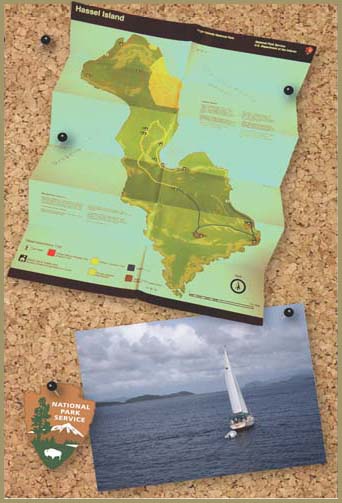 Plan Your Visit
Hassel Island is open for public visitation.  Visitors must arrange for transportation from mainland St. Thomas.
Hiking trails follow the historic passages on the island, passing interpreted sites and structures along the way.  Visitors will be able to follow the trail signs and informational signs for a self-guided tour.  Please study the Trail Map of the island prior to your visit and don't forget to pick up your Guide to Hassel Island at the St. Thomas Historical Trust or Virgin Islands National Park Visitor Center. Download a PDF of the Trail Map here.
For guided tours, please contact the St. Thomas Historical Trust to inquire about available dates and times.  Call (340) 774-5541.  For more information about Hassel Island or Virgin Islands National Park, please contact the park's Visitor Center in St. John.  Tours are also available through VI Ecotours.
While visiting Hassel Island, please be mindful of National Park Service rules and regulations:
Private property exists on Hassel Island.  Please respect property owners' rights; do not trespass.
Defacing, breaking or removing any natural or historical features or artifacts on the island is prohibited.  Do not climb on old walls or structures; they crumble easily and serious injury can result, besides the damage to the structures.
It is illegal to litter on park land or in park waters.  Please help keep Hassel Island beautiful by packing up your personal trash.
Some plants on the island are poisonous.  Do not touch or taste any unfamiliar plant.
Overnight camping on Hassel Island is prohibited.
Fires are prohibited.