Prince Frederik's Battery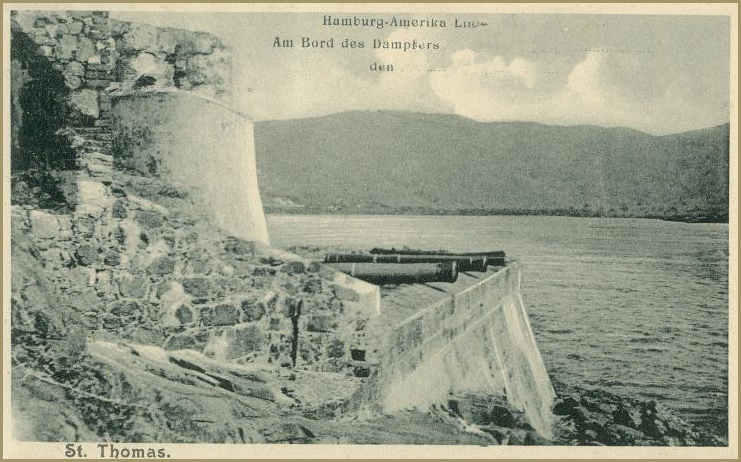 Perched on the southeast end of Hassel Island, Prince Frederik's Battery stands guard over the entrance to the harbor.  This fortification combines Danish and British history.
First considered in 1767, construction was finally commenced in 1777 and completed by 1780, primarily as a defense against privateers.  In 1802, British forces incorporated the site into their fortifications during the first occupation of the islands in the French Revolutionary War.  They continued using the Danish site throughout the Napoleonic Wars.  Under British rule, the site was renamed Fort Willoughby.  The fort still had cannons mounted in the 20th century, as seen in this postcard dating to 1906.
In 2013, the St. Thomas Historical Trust, in cooperation with the Virgin Islands Historic Preservation Office, funded and completed the stabilization of this important site.
As illustrated in the historic plan and section below, Prince Frederik's Battery includes two structures. The northern-most (the left structure in the plan) included a latrine and kitchen. The southern-most structure was composed of a small vault for a powder magazine, a modest guard house, and a cistern. Cannons were stationed along the defensive southern and eastern walls. (Historic plan drafted by Lt. Peter Lotharius Oxholm.)

Below are recent views of the site.  Also, check out the American Battlefield Protection Program Grant project page for more information about the recent studies and preservation efforts at the battery.