19th Century & Trade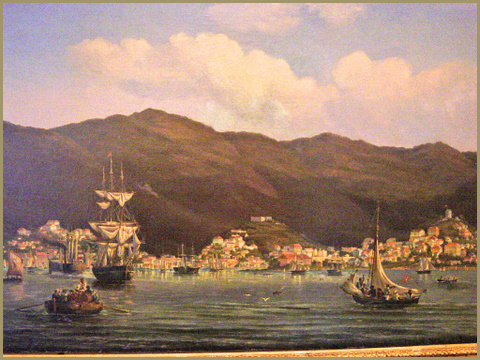 Shipping and free trade returned to St. Thomas after the departure of British troops in 1815. By the 1830s, trade was booming and St. Thomas was regaining importance as a Caribbean port. Hassel Island's prominent location in the harbor made it a central player in the mercantile history of the 1800s. Across the world, steam power was rising in profitability. The first steam ships arrived in St. Thomas in 1830. In 1843, the Royal Mail Steam Packet Company(RMSPC) established its Caribbean headquarters in St. Thomas for the transfer of mail, freight, and passengers from its transatlantic steamers. The RMSPC established a depot with a coaling station on the northeastern side of Hassel Island, a central harbor location. In 1840, a group of local business men set up a ship repair business, the St. Thomas Marine Railway Company (later Creque Marine Railway) on the north end of Hassel. Surrounded by a constant influx of ships and trade vessels, the company prospered.
The latter half of the 19th Century brought hardships to St. Thomas, but several businesses on Hassel prevailed. Cholera and malaria outbreaks in 1853 negatively impacted the St. Thomas' role in mercantilism.  At the urging of the RMSPC, these epidemics prompted the Danish government to dredge the harbor in 1864, disconnecting the peninsula and forming Hassel Island, with the hopes that increased harbor circulation would improve health. Natural disasters created another hurdle for St. Thomas trade, with a catastrophic hurricane and tidal wave destroying numerous vessels and structures in 1867. With this combination of misfortunes and improved steam technology, the RMSPC moved its headquarters to Barbados.  However, the coming years, continued to bring businesses to St. Thomas and Hassel Island, fueling the coal-powered shipping industry. These establishments included the Hamburg-America Line, the Bronsted Company, and the East Asiatic Company, just after the turn of the century (1903).