In 1917, the Virgin Islands were purchased from Denmark by the United States. The acquisition resulted from the U.S. recognition of the need for a strategic military location in the Caribbean during the conflicts of World War I. There was also a fear that Germany would attack Denmark, and then seize the Danish West Indies, threatening the approaches to the recently completed Panama Canal. Careening Cove became a small naval base, and two large oil tanks were constructed on the flat area above and south of the cove. The small pillars supporting the oil pipes are still in existence. During World War II, the U.S. military utilized Hassel Island including Creque Marine Railway and Careening Cove. At Careening Cove a degaussing station was constructed. This station was utilized to de-magnitize the hulls of submarines and minesweepers so they wouldn't attract mines.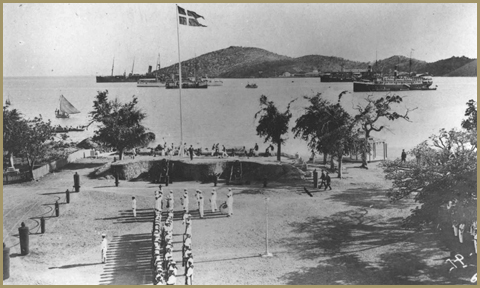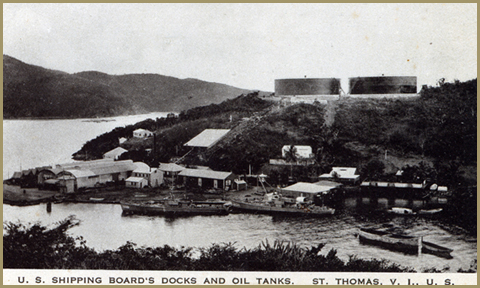 Creque Marine Railway closed in the 1960s, and Hassel Island, with its treasure trove of historic sites languished. In 1978, thanks to the generosity of the Paiewonsky family who then owned most of the island, a large part of the island went to the U.S. Department of the Interior as part of the Virgin Islands National Park, with two sites, the Garrison House and Prince Frederik's Battery given to the Virgin Islands Government. Cowell's Battery, on the southern peak was already the property of the local government, utilized as a signal station for the harbormaster.
Apart from a survey of the historic sites on the island, neither the National Park Service nor the local government undertook any efforts to preserve, protect or open the island to the public. In 2006, the St. Thomas Historical Trust entered into a Memorandum of Understanding with the VI National Park to remedy this neglect. Beginning in 2007 with a fund raiser held at the Hassel Island residence of the Charaf family and hosted by them, more than $600,000 was raised in contributions and pledges from private donors. Projects commenced with a massive shoreline cleanup (funded in part by the Friends of the National Park), which removed some 40 tons of garbage, derelict boats, and debris from the historic island. Since these beginnings, the Trust has succeeded in opening trails to all of the major sites on the island.